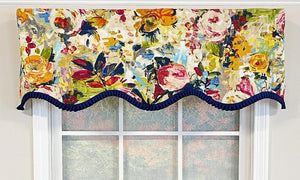 Our Martella Ruffled Provance Valance is part of our newest collection! We love this valance for its vibrant floral pattern finished with a ruffled navy trim. It fits a window up to 48"wide when flat, gather for smaller windows or add multiples for larger windows! 
Pair with our Martella Panels for the perfect pop of color layered look!
Please Note: This item is back ordered until July 5th! You can still place an order - but it will be shipped after July 5th. 
Featuring: This lined 50" wide Provance Valance is mounted on a Continental Rod, and displayed on a 40" wide window. This style is an RLF Home original design and made in Hartford, CT. 
Size Calculations: Refer to our How to Measure a Window page.

Length: 16"

Widths: 50" | 75" | 100"

Rod Pocket: 3"

Trim Style: Ruffled

Lined (lining is cream)

Fabric Content: 100% Cotton

Curtain Rod Options: Decorative Pole with Finials, Continental Rod, Lock Seam Rod.