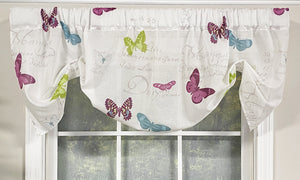 Our Butterfly Toile Handkerchief Valance is part of our newest collection! We love the colorful butterflies on a white sheer background with beautiful script in a light grey. It is the perfect whimsical valance! 
Featuring: This lined 50" wide Handkerchief Valance is mounted on a continental rod, and displayed on a 40" wide window. This style is an RLF Home original design and made in Hartford, CT. 
Length: 20" sides | 17" center

Widths: 50" | 75" | 100"

Rod Pocket: 3"

Fabric Content: 100% Polyester

Curtain Rod Options: Decorative Pole with Finials, Continental Rod

Size Calculations: Refer to our How to Measure a Window page.