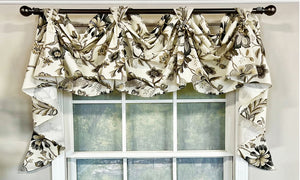 Our Azahar fabric is our best selling pattern! This Azahar Victory Swag is a lovely large scale floral combines shades of grey, black and charcoal printed on an ivory background. It is made into our exclusive victory swag pattern which is unlined and made with front tabs. It is to be hung on a decorative rod up to 1.5" diameter.
This victory swag valance is an RLF Home original design and made in Hartford, CT. 
To find the size needed divide your window by 15" to determine how many scoops your window needs. If you'd like extra full divide by 12". If you want it more stretched out on your window divide your window by 18". The price chart is done with 18" increments.
Featuring: This unlined 3-scoop victory swag valance and displayed on a 40" wide window. 
Scoops 21" long | Jabot: 34" long | Front Tabs 15" - 18" apart | Dips: 5"- 6" long

Trim Style: No Trim

Unlined

Fabric content: 82% Cotton, 18% Polyester

Curtain Rod Options: Decorative drapery pole with finials mounted 4" - 6" above the window frame.

This valance is made to fit windows according to the number of scoops. Select the number of scoops to fit the width of your window.