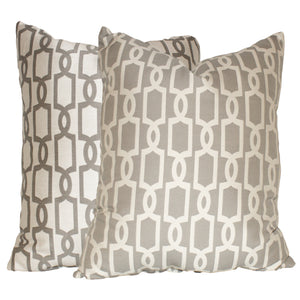 Featuring: Our Taffy Turn Pillow has a fun geometric pattern in grey on the front, and the same geometric pattern on the back in a lighter hue. It is the perfect reversible pillow. This style is an RLF Home original design and made in Hartford, CT. 

This listing is for ONE pillow. The second pillow in the image is to feature the back pattern! 
Pillow Front: Taffy Turn

Pillow Backing: Taffy Turn

Color: Grey

Size: 16" x 16"

Closure: Machine stitched

Filling: Dacron batting

Pillow designed and manufactured in the USA.