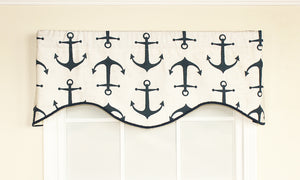 Our Castaway Cornice Valance features anchors in navy on a crisp white background. It is finished with a coordinating navy trim. This maritime-themed window treatment is perfect addition to add to your nautical decor! 
This style is an RLF Home original design, and made in Hartford, CT. 
Featuring: Lined, 50" wide Cornice Valance with decorative trim, mounted on a continental rod and displayed on a 40" wide window. 
Size Calculations: (Refer to our How to Measure a Window page.)

Length: 16"

Widths: 50" | 75" | 100"

Rod Pocket: 3"

Trim Style: Gimp

Lined: Cream

Fabric Content: 100% Cotton

Rod Options: Decorative pole, Continental rod, Lockseam rod