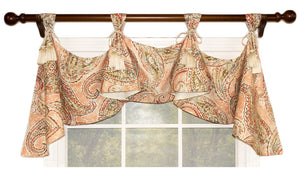 Our Spirited Jaime Valance features a beautiful paisley pattern on a vibrant and colorful background. You'll love this unique swag-styled valance with tabs.
Featuring: This 50" wide lined Jaime Valance is mounted on a continental rod and displayed on a 40" wide window. This style is an RLF Home original design and made in Hartford, CT. 
Tails: 26" long | Bell: 16" long 

Widths: 2 swag is 35" wide w/ 3 tabs | 3 swag is 50" wide w/ 4 tabs | 4 swag is 65" wide w/ 5 tabs

Trim Style: No trim

Lined (lining is cream)

Fabric content: 100% Cotton

Curtain Rod Options: Decorative drapery pole with finials.