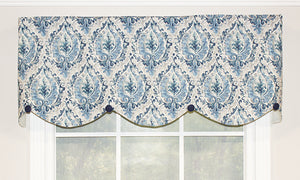 The Fenton Medallion Bouton Valance showcases a stunning medallion design in Navy. This versatile scalloped valance is offset by fabric buttons that only enhance the beauty of this style. Consider pairing the Fenton Medallion Rod Pocket Panels beneath for a look you can't beat! 
Featuring: This lined 50" wide Bouton Valance is mounted on a continental rod, and displayed on a 40" wide window. This style is an RLF Home original design and made in Hartford, CT. 
Similar to its counterpart -- the Petticoat Valance -- the Bouton Valance is styled with a single layer of fabric with a scalloped bottom edge, and accented by fabric covered buttons, a wide rod-pocket, and no header. To achieve the look simply hang flat on the curtain rod for a tailored effect, or gather on the curtain rod to create fullness.

Length: 17"

Widths: 50" | 75" | 100"

Rod Pocket: 3"

Trim Style: Fabric covered buttons to match bottom fabric.

Lined (lining is cream)

Fabric Content: 100% Cotton

Curtain Rod Options: Decorative Pole with Finials, Continental Rod, Lock Seam Rod.