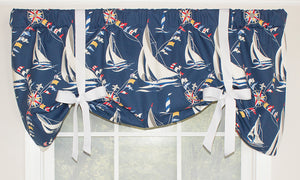 Accent your nautically-themed rooms with our Sail Away Tie-Up Valance! Adjustable ribbon ties allow for length versatility at the window. For the ultimate seaworthy look layer a pair of matching Sail Away rod pocket panels beneath.
Featuring: This lined 50" wide Tie-Up Valance is mounted on a continental rod, and displayed on a 40" wide window. This style is an RLF Home original design and made in Hartford, CT. 
Suggested length when tied-up: 22" sides | 17" center

Widths: 50" | 75" | 100" (50" and 75" have 2 ties, 100" has 3 ties)

Rod Pocket: 3"

Trim Style: Grosgrain ribbon ties in color shown

Lined (lining is cream)

Fabric Content: 100% Cotton

Curtain Rod Options: Decorative Pole with Finials, Continental Rod, Lock Seam Rod

Size Calculations: Refer to our How to Measure a Window page.